Hotspring Hotspot Hot Tubs
Made for the everyday person. The Hotspot collection has all of the class and elegance of other collections made by Hotspring at a price that won't break the bank.
Designed to delight the senses, each spa features eye-catching finishes, dramatic LED lighting, sleek metallic corners, and distinctive design details. Subtly embossed cabinets evoke natural materials' beauty with advanced composites' durability. Choose from a soothing color palette that follows current design trends and complements your indoor and outdoor space.
Hot Spring spas are consistently recognized for outstanding quality and value. Dedication and experience add up to unsurpassed quality and reliability for you and your family. Make your spa part of your daily wellness routine. You can count on it to be hot and ready when you are, for years to come.
The Complete Hydrotherapy Experience
Every aspect of your spa is precision-engineered to deliver the ultimate massage experience. Ergonomically designed shells are shaped to fit the body's contours and position you to make the most of our legendary Hot Spring hydromassage systems.
Easy Water Care
The FROG® @ease® In-Line System uses pre-filled cartridges that automatically release sanitizer to keep your water clean and clear.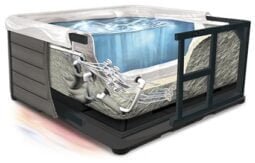 FiberCor® Insulation
Exclusive insulation fills the cabinet completely to a density four times greater than the half-pound foam used in most spas. Combined with Energy Smart features, this keeps water hot and energy costs low.
Money-Saving Efficiency
Use your spa every day with features that work together as part of the Energy Smart® system to keep energy costs down. FiberCor® insulation completely fills the spa cabinet with four times denser insulation than standard half-pound foam. Custom-designed, insulating spa covers provide a tight seal to lock in heat. And our patented No-Fault® heater maximizes heat transfer to the water. Your spa will be there for you, hot and ready with money-saving efficiency.
More Hot Tubs Made by Hotsrping
Keep on Swimming N Soaking!