So I Just Bought A New Pool Now What?
Here is a list of things to expect that each of my customers should know after they purchase their new pool, and not sure what comes next, or maybe you just forgot to ask.
New Swimming Pool Checklist
Site Survey: Expect a call from your assigned Pool Installer. For purchases before Pool Season, Installers will call when the ground is visible and outdoor temperatures have improved. The expectation for the survey is April/May. During Pool Season, expect to hear from the installer. Typically, within seven days or less after purchase, it may go longer during a heavy installation season. At this time, your installer may collect part of or the entire installation cost.
Permit: The State of New York does require a permit for all new pool installations. To obtain a permit, contact your local building department. Be sure you know where the pool is going to be installed. Most towns require the location to be marked on a property map. The town will also verify that the installer has certain types of insurance on file; check with your installer. Note: If it is before May 1st, your installer may not have their insurance activated for the season.
Electric: Electric installation is not part of your Pool purchase. This is part of the final inspection by your town. They will provide you with guidelines for you to follow. The electricity should be run after the pool is in place.
Need an Electrician? Click here for Help.
Delivery: In most cases, we will deliver your new pool at no extra charge. Be sure you have made arrangements a minimum of two weeks before the installation.
In-Ground Customers: In the State of New York, be sure you have filled out the Tax Exempt form.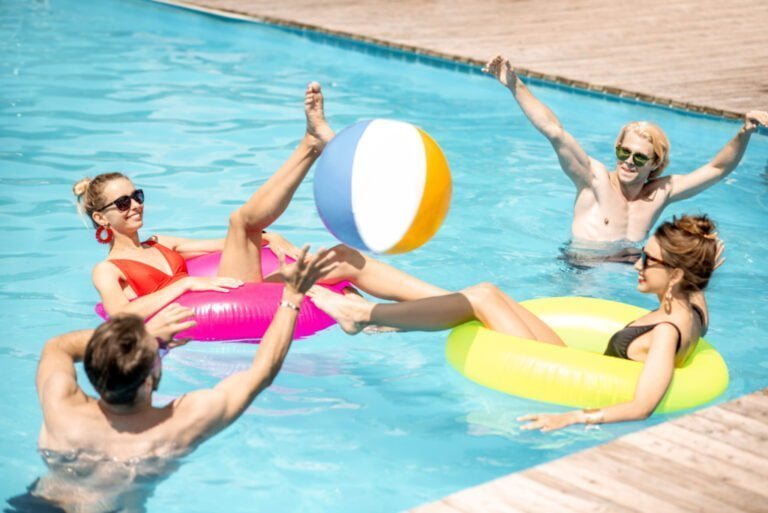 Installation: At the time of your site survey and after the contract is signed, your installer will provide you with an expectation of an installation time frame. Most above-ground installations are done in one day with a small excavator like a Bobcat that will need access to your yard. Your installer will also arrange for sand to be delivered just before your pool is installed. If you want any documentation packed with your pool products, please ask your installer put them aside.
Installation In-Ground: This is generally a three to four-day project. During the backfill process, we will do our best to reuse all the dirt. Please consult the installer to make arrangements if you need soil hauled away. Note this is an additional charge.
After installation: We are here! We test and give water advice. We can review the pool operations and provide technical support. Most new pool purchases include a winter cover. At the time of sale, you should have received a sales receipt with a winter cover to be redeemed at the end of the pool season.
Subscribe and Stay Up to Date
Keep on Swimming N Soaking!